Without batteries, your hearing aids would be unable to function. To keep your devices running as smoothly as possible without interruption, there are a few things to know about hearing aid batteries. We've put together some common questions and answers that should help you get the most from your hearing aid batteries.
What Kind of Batteries Do Hearing Aids Use?
Most hearing aids use disposable zinc-air batteries that are color- and number-coded for easy replacement. The type of battery needed depends on the style and size of your hearing aids.
10 (yellow)
13 (orange)
312 (brown)
675 (blue)
Most drugstores carry replacement batteries; they can also be ordered online or purchased from your audiologist at Massachusetts Hearing Group and Nashua Hearing Group.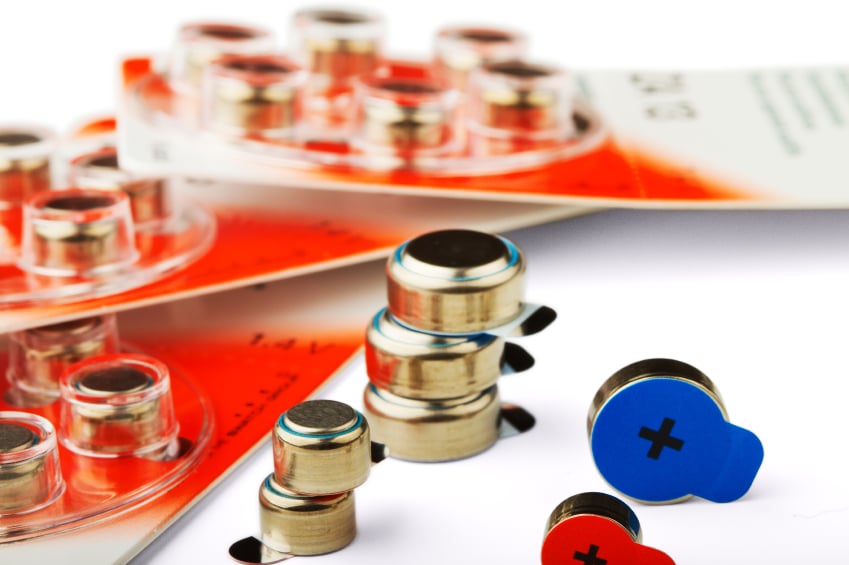 How Do Zinc-Air Batteries Differ from Other Battery Types?
Zinc-air batteries require oxygen. They come with a protective seal on the back; once this sticker tab is removed, oxygen enters through tiny holes to activate them. Therefore, only take off the sticker when you are ready to use the battery. To extend battery life, allow a minute for the air to reach the materials inside.
How Long Will Hearing Aid Batteries Last?
On average, batteries last five to seven days depending on the size and style of your hearing aids and the amount of time your hearing aids are used.
How Will I Know When It's Time to Change the Batteries?
The most obvious sign would be if there is no sound coming through your hearing aids, then your first suspicion should be a dead battery. Hearing aids are designed to produce an audible warning tone when the batteries are low. Newer hearing aids allow you to check the battery level on your smartphone.
Are There Steps I Can Take to Extend Battery Life?
Store your batteries at room temperature and avoid exposing them to moist or humid environments. This includes the refrigerator – despite what you may have heard, this is not a good place to keep your batteries as temperature extremes and condensation can shorten their life.
When removing your hearing aids at night, turn them off by opening the battery compartment door to prevent excess moisture and battery drain.
What Are Rechargeable Hearing Aids?
Instead of traditional disposable batteries, patients now have the ability to opt for rechargeable hearing aids instead. Rechargeable hearing aids have built-in batteries that would need to be docked on a charging unit overnight. Rechargeable batteries can hold a charge between 18-36 hours, depending on stream time, and they last about 5-6 years before needing to be replaced. While rechargeable hearing aids are primarily restricted to select custom styles and behind-the-ear styles only, this is a great option for patients who have issues with dexterity or for those who don't want to worry about buying or changing batteries.